Welcome to Friendship Baptist Church

3367 Ritner Highway
Newville, PA. 17241
Phone: (717)776-9415
Times of Services:
Sunday School - 10:00 am
Sunday Morning Worship - 11:00 am
Sunday Evening Service - 6:00 pm
Wednesday Evening Prayer Service - 7:00 pm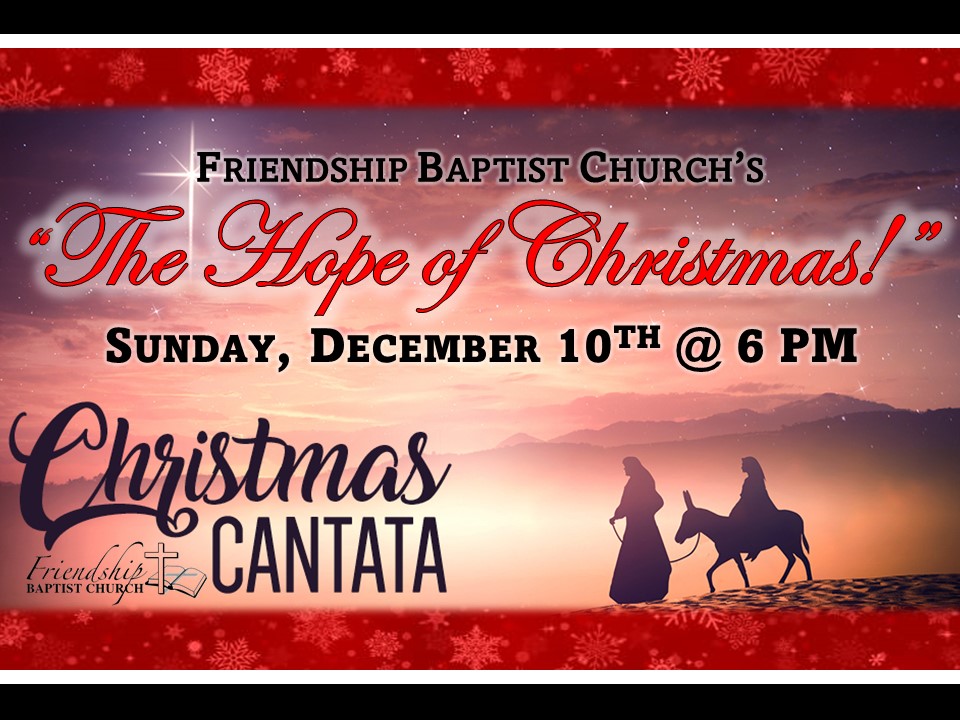 Welcome to Friendship Baptist Church!
We are an independent, fundamental Baptist church in Newville, PA. Being independent means that we do not belong to any association or convention, nor are we bound to any other governing body. We decide for ourselves how we function as a church, which is based on scriptural principles and doctrines of the Bible. Being fundamental means that we believe the Bible is the Word of God in its entirety and is completely accurate and truthful. Our practice, our preaching and our teaching are based solely upon the Bible. We believe the Bible does not contain the Word of God, but rather it is the Word of God.
We are also a church that has a heart to reach the lost, supports world missions, honors God in music and modest appearance, and preaches from the King James Bible.
However, there are a few things you will not find at Friendship Baptist Church. You will not find modernistic views or practices. You will not find a casual attitude toward the things of God. You will not find an apology for preaching the whole counsel of God. You will not find a judgmental spirit or disrespectful environment.
What you will find at Friendship is a warm, friendly and caring church where you will be loved and appreciated. You will find people that love others and love the Lord. You will find a place where you can learn what God has for you and what God expects of you. You will find a family where you can feel at home regardless of your origins or status and that desires to see God's best for your life.
If you visit us at Friendship, you will see three things emphasized and practiced in our church.
Preaching
We believe it is through the foolishness of preaching that God saves them that believe (1 Cor. 1:21). Thus, the preaching at Friendship is biblical in nature, fundamental in character, and Christ-centered in application. The whole counsel of God is important, so expositional preaching is the prominent and most important part of our services.
Music
We recognize the importance of music in our lives and worship, so we strive to keep our music honoring to the Lord. Christ is a magnificent, righteous, and holy Savior, so our desire is to have music that reflects His holy character. We sing psalms, hymns and spiritual songs at Friendship (Eph. 5:19; Col. 3:16). Congregational singing is sung from hymnbooks and sacred music is used in all other music ministry opportunities.
Outreach
We are commanded to take the Gospel of Christ to every creature (Mark 16:15), but when it comes to the gospel, many emphasize a place (Heaven) instead of a Person (Christ). Our desire at Friendship is to introduce people to Christ, the Savior, and to show them the life-changing relationship they can have with Him (John 14:6). As a church, we also support many missionaries in over twelve countries and our Mid-Atlantic Seedline ministry assembles thousands of Scripture portions per year which are distributed all around the world.
God certainly is at work in our church, and we are very excited to see how God will continue to bless as we faithfully serve Him. We would like to extend an invitation for you to visit us, to be blessed by the preaching of the Word of God, and to enjoy fellowship with God's people. As a local Baptist church, we are passionate about ministering to the Newville and Cumberland Valley areas and we would be honored to have you as our guest.
Sincerely,
Pastor Michael Downs
Friendship Baptist Church

For further information, please contact:
Church: (717)776-9415
Cell: (410) 920-4003
Pastor Michael Downs and Family