WHAT IS MID-ATLANTIC SEEDLINE MINISTRY?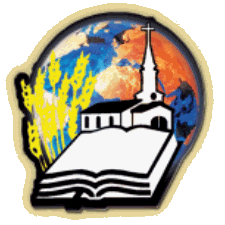 Mid-Atlantic Seedline Ministry is a Local Church based Missionary outreach geared toward helping Missionaries around the world. This is done as Local Churches see the need for the Word of God to be sent to all corners of the globe.
In the Old Testament, the nation of Israel was entrusted with the copying of the Word of God. In the Church Age, the Local Church was given the responsibility to publish the Bible. With the invention of the printing press and the formation of publishing companies, the publishing of the precious Word of God was turned over to the unsaved world.
These publishing companies are naturally in business to make a profit. This is just one of the many reasons that all of the new perversions of the Bible are on many bookstore shelves. With Mid-Atlantic Seedline Ministry, the publishing of the Word of God (Scripture Portions) reverts back to the Local Church.
Through Local Churches, Bearing Precious Seed, Couriers for Christ, and like ministries, the Scriptures are shipped throughout the world at no expense to the Missionaries. Millions have been distributed and only God knows how many have been saved through this ministry. This is a ministry that helps to equip the missionary.
Many missionaries throughout the world would desire to have John/ Romans to use in their ministries, some have them, but many do not. One major reason is the lack of money to buy paper to print these Scriptures on. If we really believe that the Word of God is necessary for salvation, shouldn't our churches place the publishing of it as a major priority?
In Psalms 119:130 we read "The entrance of thy words giveth light; it giveth understanding unto the simple." Just as the Dark Ages was so named because the Bible was suppressed, there are multitudes living in darkness in this modern world because the Word of God is not available. Should not we who live in the most blessed country in the world take the responsibility to share the Word with those less fortunate?
In Mid-Atlantic Seedline Ministry, we work primarily with John/Romans Scripture Portions.
John 20:31 "But these are written, that ye might believe that Jesus is the Christ, the Son of God; and that believing ye might have life through his name."
This is an evangelistic tool which contains some of the most simple presentations of the Gospel in the entire Bible.
Multitudes of testimonies have been given of folks being saved by just simply reading these portions.
Romans 10:17 " So then faith cometh by hearing, and hearing by the word of God."
Eternity only will tell the full account of the souls saved through Mid-Atlantic Seedline Ministry and other such ministries.
Not all countries in the world are open to the Word of God, but many are. The country of Russia is open now, but with the changing political scene, we don't know for how long. The cults pour literature dealing with their false gospel into these countries by the truck loads. Can't Fundamental Baptist churches work together to give and to put together the Scriptures?
There is a famine of the true Scriptures throughout the World.
1 Peter 1:23 "Being born again, not of corruptible seed, but of incorruptible, by the word of God, which liveth and abideth for ever."
During the "Nistru River Campaign" in Moldova, in 2003, 15 Americans and 30 nationals distributed 207,116 J/R in the city of Chisinau. During the 6 1/2 day campaign, over 150 individuals made professions of faith. Praise the Lord!!!
Like David of old, "Is there not a cause?"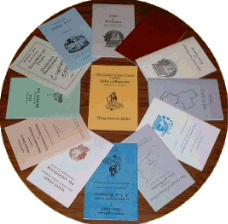 SEEDLINE TESTIMONY
When we at Friendship Baptist Church heard about the possibility of becoming involved in collating John/Romans Scripture Portions, we wanted to get started immediately. The presentation was given in the fall of 1997 and we decided to step out by faith. Early the next year we ordered our first two saddle staplers and received our first signatures and covers.
What a thrill it was to be involved in a missionary ministry that would help the unsaved throughout the world. While in some churches, this is primarily a senior citizen ministry, children as young as four get involved in our church. May I tell you that years later, it is still a thrill to work on Scripture Portions.
The seedline ministries in existence work primarily with smaller churches, although large churches are needed as well. Our Church at present would run around 40 if every regular attender were present. Even with our small size, the Lord blessed our initial step of faith. In the last years we have been able to pay for and collate over 1.4 million Scripture Portions. We have collated French, French Creole, Spanish, Russian, Korean, Croatian, Hungarian, Czech, Thai, Portuguese, Telegu, and Cebuano in addition to English. The fingerprints of Friendship Baptist Church are literally around the world.
In the beginning of 2003, the Lord allowed us to buy our first trimmer. After five years, we were able to totally finish our own portions and box them for the mission field. In January of 2004, a family in our church donated a second trimmer which is much larger and faster than the first.
We now desire to see other churches of like precious faith become involved in this worthwhile missionary outreach. Collating churches are required to buy their own staplers and donate the money for Scripture portions collated. At approximately fifteen cents per scripture, that is a Baptist Bargain. Often one portion is read by several people.
HOW CAN CHURCHES HELP?
1. By Praying For The Ministry. Your prayers are coveted for Mid-Atlantic Seedline Ministry. Pray that the Lord would raise up a network of good solid churches that would also see this important need. Pray for Bro. Black as he oversees this ministry.
2. By Giving To The Ministry. We at Friendship Baptist Church have been giving to this ministry for years. The church feels that this is some of the best spent money in its missions budget. A J/R Scripture Portion costs approximately eleven cents. Money designated for paper will be used for paper.
3. Hands On Collating. A collating church must also be a giving church. The Scriptures given a church to collate are in direct proportion to the giving of the church. Minimal equipment is needed for collating. At least one saddle stapler will need to be purchased by the collating church. This can be a blessed time of fellowship for the congregation. Collating involves tearing the Signatures apart, stuffing one inside another, folding the covers, and putting the cover on the collated Signature. Once this is complete, the Portion needs to be stapled and then inspected. If not being trimmed, they need boxed in banana boxes and returned to Friendship Baptist Church in Newville for trimming.
4. Collating And Trimming. Once a church is involved for a time, and if financially able, they may want to purchase a trimmer. This enables them to complete the project at their church before returning it to Newville. Those churches who would purchase a trimmer in the future would be given boxes to package the completed project in.
HOW CAN MID-ATLANTIC SEEDLINE MINISTRY HELP YOUR CHURCH?
1. Presenting the Ministry. If you are interested in having the details of the ministry presented at your church give us a call and we will try to arrange for a member of our church to visit you.
2. Scripture Portion Workday. Part of Mid-Atlantic Seedline ministry is to train local churches dealing with Scripture Portion Collation. We would bring a couple of bundles of signatures, covers (and staplers if necessary) and oversee the process as it is being done the first time. We strive for a quality finished product.
Colossians 3:23 "And whatsoever ye do, do it heartily, as to the Lord, and not unto men."
This could be done on a Saturday or after Sunday morning services. Missions Conferences may also be possibilities.
3. Helping to Answer Questions. While we may not immediately know all the answers, we may have sources available who would be able to give the answers.
4. Coordinate Projects. Moneys for Scripture Portions would be channeled through our Mid-Atlantic Seedline Account. Because we are a small church with limited resources, it is best for supporting churches to give on a monthly basis. This enables us to have the money on hand when the signatures and covers arrive. It would then be our responsibility to order signatures, covers, and boxes. We would then let you know when new projects are in for pick up and would give you a date by which they need to be completed and returned.
MID-ATLANTIC SEEDLINE REQUIREMENTS
1. We desire Independent Fundamental Churches that are Baptist in doctrine. We are not interested in churches that hold to the philosophy of New Evangelicalism.
2. Churches must take a strong stand on the King James Bible and refute other English versions. Must believe that the Masoretic Text and the Textus Receptus have been providentially preserved and that the King James Bible (or Authorized Version) is an accurate translation of these texts.
3. We are not interested in churches that use or promote Christian Contemporary Music.
4. We are not interested in Calvinistic churches or Free Will Baptist Churches.
5. Churches must believe in separation from ecclesiastical heresy and apostasy. They must stand opposed to the Charismatic Movement, New Evangelicalism, and the Ecumenical Movements.
Psalm 68:11 "The Lord gave the word: great was the company of those that published it."
For more information call:

Friendship Baptist Church
3367 Ritner Highway
Newville, PA 17241
(ch) 717-776-9415